Moncera is a new site that offers loans from the Placet Group
Over the last few years we have seen the launch of many P2P sites that offer loans from just one loan originator. Examples include Lendermarket, Robo.cash, Viainvest, Peerberry (initially) and many others. To this list we can now add the new site Moncera. 
Moncera only offers loans from one loan originator – Placet Group. Many of our readers are investors on Mintos, where Placet Group loans can also currently be found. So why would Moncera potentially be of interest to them? Firstly, as Dmitry Pavlov, CEO of Moncera explains below, Moncera investors receive extra benefits and returns compared to Mintos investors. Secondly, in our experience, loans can become very difficult to find on Mintos, once a loan originator starts to work with a preferred platform. We saw this with Aventus Group, which stopped offering loans on Mintos shortly after it set up Peerberry. 
Interest rates available are around 12%. We have been testing the site, and found it possible to quickly invest €10,000 at those rates, with no subsequent 'cash drag'. The on-boarding process was fast and efficient, and deposits were credited quickly. Unusually for a P2P site, Moncera has opened offices in Tallin, Estonia that are open to the public (see pictures below).
Who are the Placet Group? Are they solid?
Placet Group has been operating since 2005. Its two key markets are Estonia and Lithuania. It offers a variety of loans including installment loans, and mortgages. We have been tracking the performance and results of Placet Group for years, as part of our Mintos Lender ratings. Over the last three years Placet Group has made profits of €3-3.5 million per year. In Q1 this year it made €1 million. Our current rating score is 74/100, making them one of the highest rated loan originators on Mintos. The latest financial reports and presentations of Placet Group can be found here.
One of the things that we most like about Placet Group is its conservative balance sheet structure. Around 50% of its assets are funded with equity. This means that Placet Group is less reliant on P2P and other funding sources than many other loan originators. In uncertain times like now, this low funding risk is very positive for P2P investors. The €20m of equity held by Placet Group also gives it a big cushion to  absorb any unexpected future losses.  
The CEO of Placet Group has told us that they remained profitable in Q2 2020, and expect their profit for this year to be similar to 2019. If they can achieve this, it will be a very good performance given the disruption that Covid-19 has caused. The percentage of Placet Group customers that have received payment holidays is currently 8-9% of the portfolio, which is not a significant increase on the typical pre-Covid level of 4-5%. This is a significantly lower proportion of customers than we have seen in other markets such as Spain, Poland and Russia.
The combination of profits, resilience against Covid-19, conservative balance sheet, and regular financial reporting, makes Placet Group one of our preferred loan originators in Europe currently.
Dmitry what's your background? Who else is in the management team? How many employees does Moncera have?
Aleksey Telitsyn and I are members of the board and the founders of Moncera. My financial experience started with Creditstar in 2008. Since 2015 I worked in Placet Group OU and was involved in the integration with Mintos. In 2019 I decided to co-operate with Aleksey and develop a similar platform to Mintos. Aleksey has 20 years of IT experience. He worked in banks, developed and supported banking software, was engaged in the development of software for online stores, as well as financial projects for Placet Group. Our team consists of four people, which are 100% focused on Moncera. I am the managing director, Aleksey is the IT developer, we also have a client relation manager and customer support. Such services as accounting and marketing we are outsourcing. We planning to hire more people soon.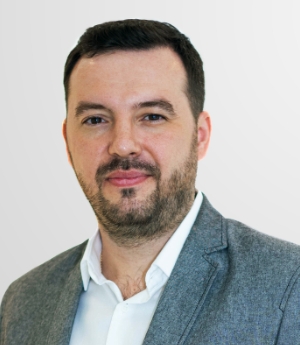 You are regulated in Estonia. What type of authorisation does Moncera have?
Moncera OÜ has an Authorization for economic activity from the Estonian Financial Intelligence Unit. To obtain such authorization, the company's shareholders and its board members are going through the full process of checking their compliance with these positions.
Why did you create Moncera?
Moncera was launched in March 2020, but the idea of creating a platform was adopted jointly with the Placet Group in September 2019. Moncera is a platform created to attract funding from investors into loans issued by Placet Group in Estonia and Lithuania.
Who owns Moncera?
Aleksey and I are the shareholders of Moncera. Placet Group is not the owner of Moncera. We have a personal relationship with Placet Group shareholders. Although Placet Group is not a shareholder, both companies have responsibilities to investors. A highly regarded company like Placet Group wouldn't cooperate with our platform if it was not confident in its officials.
How big does Moncera need to get for you to become profitable? How much has been invested into the equity of the business so far?
Moncera is now profitable and we have enough capital to be a self-sustaining platform. Our revenues are coming from service fees to loan originators. At the end of May 2020 company equity was 40'700 EUR. We will publish our financial reports on our homepage in the future. (Note – the pre-launch 2019 financials can be found here).
Investors can see the status of their own portfolios. Are there any plans to provide statistics about the status of all loans funded on Moncera?
We are doing everything to meet our investor's expectations and be as much as transparent and reliable for them. The status of all funded loans will be published to all investors as well.
What is the advantage for investors to purchase Placet Group loans via Moncera? Are you offering better terms than Mintos?
Placet Group is offering better conditions on Moncera, such as:
Bank settlements each day, i.e. that no Pending payments

One click exit – instant liquidity for 0,5% from outstanding principal
How many investors have you been able to attract so far?
Within 4 months of activity we have almost 1500 trusting investors, who invested more than €1 million.
Do you hold investor funds in separate/trust accounts?
Yes, the uninvested balance is always in a separate bank account and those funds can't be used for covering Moncera's costs.
You have an office in Tallinn – can investors drop in and meet the team?
Our office is situated at Kaupmehe str. 6, Tallinn, Estonia, which is open for our customers each working day from 10am to 7pm Estonian time. Each investor is very welcome to step by at working hours.
What impact has Covid-19 had on Moncera?
We launched Moncera in March 2020, right before the crisis began and of course it was difficult for us to attract investors in this difficult time. Despite this, we were able to convince our trusted investors, who joined us in the fact that we can be trusted. Of course, Covid-19 affected the entire P2P market as a whole, but also exposed scammers.
Can you explain how the 'one click exit' works, and how you are able to offer it? (i.e the buyback arrangement with Placet)
1 Click exit is an opportunity provided by Placet Group. This feature gives to our investors a possibility to SELL a loan for 0.5% cost (during 14-days cooling period this is free) of outstanding principal amount and get funds immediately in their Moncera account. One of our missions is to offer a service that allows our investors feel safe and comfortable. We believe that having an instant liquidity gives the investor confidence in the future, especially in such a difficult time.
Moncera promises no 'pending payments' – how are you able to promise this?
Buyback and 1-click exit guarantee is provided by Placet Group. To avoid having any pending payments and ensure that investors money is always on Moncera account, we have agreed with Placet Group to do bank settlements each day and if the situation is required to, we can even do this twice.