Last updated: 4 December 2019
How to find the best Mintos loans
Mintos currently offers loans from 70 lenders. That's a lot of choice, which is great, but it can also make it hard to create a portfolio that has the optimal balance of risk and return. The quality of the different lender on Mintos varies dramatically, which also makes loan selection even tougher. For over a year, we have been publishing our Mintos Lender Ratings, to help investors identify which lenders have the strongest credentials, and which are higher risk. This has been a very popular feature, and so today we are launching our new Mintos Loan Scanner. Our Loan Scanner builds on our lender ratings and adds information about current interest rates, and the supply of loans on the primary market, to help investors quickly see what is available across the primary market, and what the best opportunities may be. We plan to regularly update this page as interest rates, lender ratings and loan availability changes.
What are the best Mintos loans available?
The chart below represents the loans available on the Mintos primary market as 23 November 2019. The vertical axis shows the typical interest rate that can be found from each lender. The horizontal axis represents the current rating score for each lender. The size of each bubble represents the availability of loans (low/medium/high).  The most attractive loans are on the top right side of the chart, and the least attractive on the lower left side. We have noticed a very dramatic fall in loan availability since our last update in September. There are simply much fewer companies with loans available on the primary market. We suspect that this is partly because smart investors have been including loans from the higher rated loan originators in their auto-invest settings, which means that any new loans get taken very quickly and do not reach the primary market. Secondly, we have seen lenders like Creditstar set up their own P2P sites, and take their loans away from Mintos.  Another major loan originator, Mogo, has also significantly reduced the volume of loans it is placing with Mintos. We have also noticed that rates have continued to fall – typical rates are now below 10%.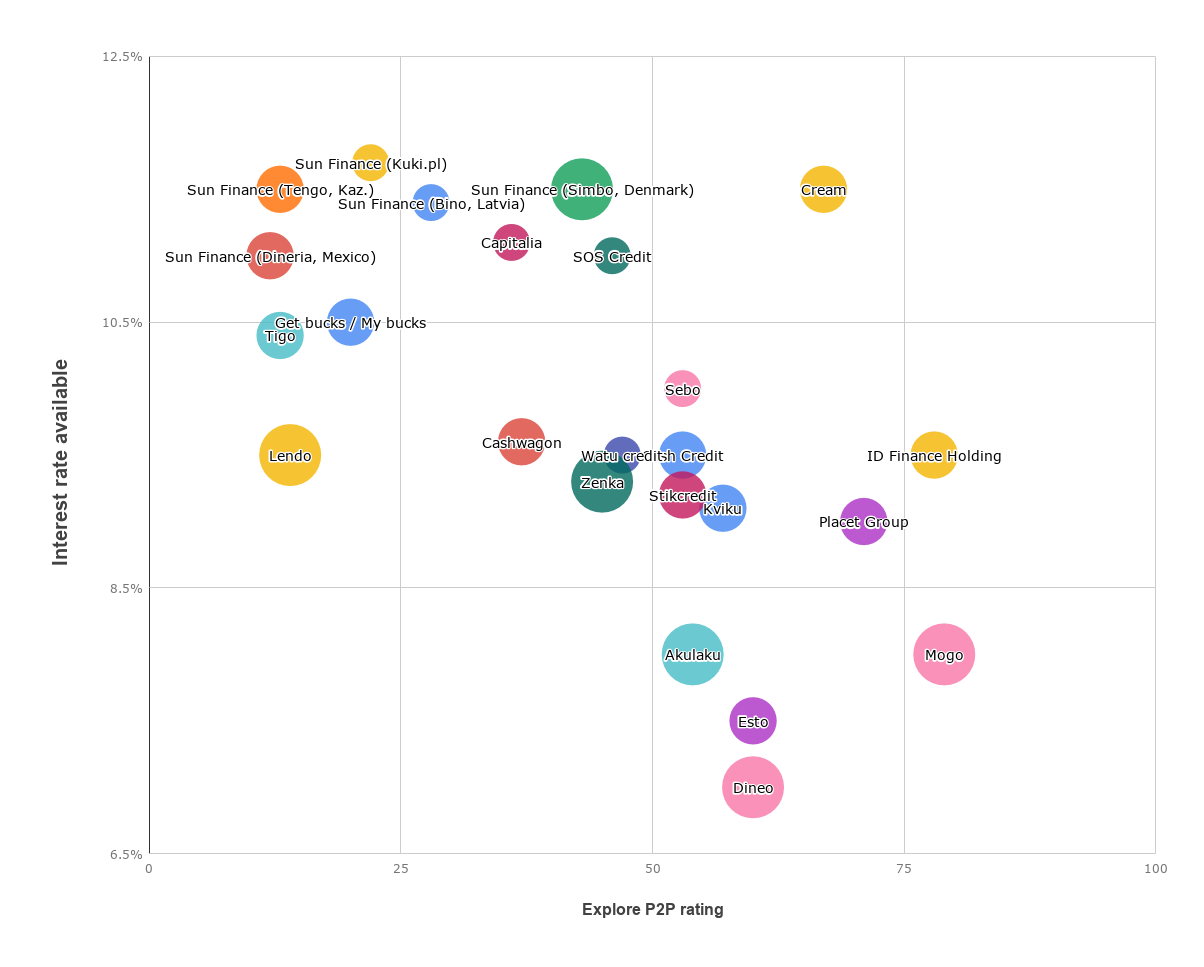 It's currently much more difficult than usual to find available loans that offer an excellent balance of return and strong lender score. In fact, for investors who have only invested onto the Mintos platform, now is a good time to diversify onto other platforms that offer higher returns. We have listed some options at the bottom of this page. On Mintos, we think some of the better available options right now include iute Credit, ID Finance (Kazakhstan) and Placet Group. If you use the Auto-Invest function, we also recommend setting this up to purchase loans from the higher rated lenders with no current availability. This means that you will have more chance of getting these loans when they come onto Mintos.

Bulkestate is a small but growing site focused on loans secured on real estate. It offers loans secured by real estate. Their rates are the highest in Europe for secured loans currently (11-14%)