Last updated: 14 July 2019
Selecting the best Mintos loans can be hard
Mintos currently offers loans from 58 lenders. That's a lot of choice, which is great, but it can also make it hard to create a portfolio that has the optimal balance of risk and return. The quality of the different lender on Mintos varies dramatically, which also makes loan selection even tougher. For over a year, we have been publishing our Mintos Lender Ratings, to help investors identify which lenders have the strongest credentials, and which are higher risk. This has been a very popular feature, and so today we are launching our new Mintos Loan Scanner. Our Loan Scanner builds on our lender ratings and adds information about current interest rates, and the supply of loans on the primary market, to help investors quickly see what is available across the primary market, and what the best opportunities may be. We plan to regularly update this page as interest rates, lender ratings and loan availability changes.
What are the best Euro loans available?
The chart below represents the loans available on the Mintos primary market as of July 14 2019. The vertical axis shows the typical interest rate that can be found from each lender. The horizontal axis represents the current rating score for each lender. The size of each bubble represents the availability of loans (low/medium/high).  The most attractive loans are on the top right side of the chart, and the least attractive on the lower left side.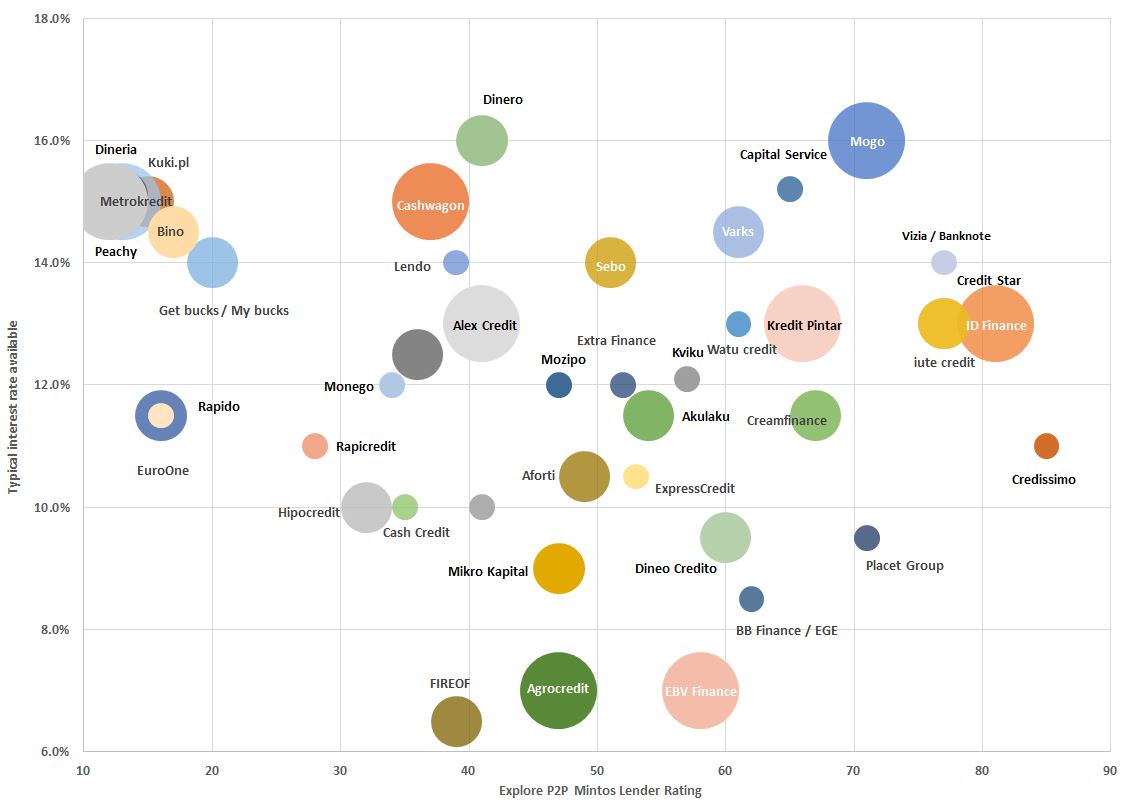 Loans that currently offer a good balance of return and strong lender score include Mogo, Credit Star, ID Finance, Vizia/Banknote, Kredit Pintar and iute Credit. While most Mintos lenders are structured with buyback guarantees, individual loan characteristics also need to be considered. Some lenders, such as Hipocredit and FIREOF offer mortgages secured on housing, but at lower returns. Capitalia offers some of the highest interest rates available, but without buyback guarantees. The full list of lenders offering Euro denominated loans currently operating on Mintos is shown below. 
Now is a good time to be joining Mintos or adding further funds. Most of the current interest rates available are 2-3% higher than they have been over the last 12 months. It's not clear why interest rates available have increased so much, but it is good news for P2P investors. It's always important though to continue to keep an eye on lender quality, regardless of interest rates available.
What loans are available in other currencies?
Most loans on the primary market are available in Euros, however there is growing supply of loans in other currencies. We think these loans will be purchased by investors already holding cash in these currencies, but the higher returns generally available may attract some European investors to purchase these loans. Current availability of all the non-Euro lenders shown above is relatively limited.