Last updated: 23 March 2020
How to find the best Mintos loans
Mintos currently offers loans from 70 lenders. That's a lot of choice, which is great, but it can also make it hard to create a portfolio that has the optimal balance of risk and return. The quality of the different lender on Mintos varies dramatically, which also makes loan selection even tougher. For over a year, we have been publishing our Mintos Lender Ratings, to help investors identify which lenders have the strongest credentials, and which are higher risk. This has been a very popular feature, and so today we are launching our new Mintos Loan Scanner. Our Loan Scanner builds on our lender ratings and adds information about current interest rates, and the supply of loans on the primary market, to help investors quickly see what is available across the primary market, and what the best opportunities may be. We plan to regularly update this page as interest rates, lender ratings and loan availability changes.
What are the best Mintos loans available?
The chart below represents the loans available on the Mintos primary market as 23 March 2020. The vertical axis shows the typical interest rate that can be found from each lender. The horizontal axis represents the current rating score for each lender. The size of each bubble represents the availability of loans (low/medium/high).  The most attractive loans are on the top right side of the chart, and the least attractive on the lower left side. The last time we updated this chart was in December 2019. We were talking about the large fall in interest rates, and reduced loan availability. The highest rates available then were around 13%. The chart and tables below show how dramatically things have changed. Rates of up to 25% can now be found. 
As the COVID-19 pandemic progresses, finance companies will be finding funding more difficult to obtain. Clearly some are willing to pay high rates of interest right now to ensure that they maintain sufficient funding levels.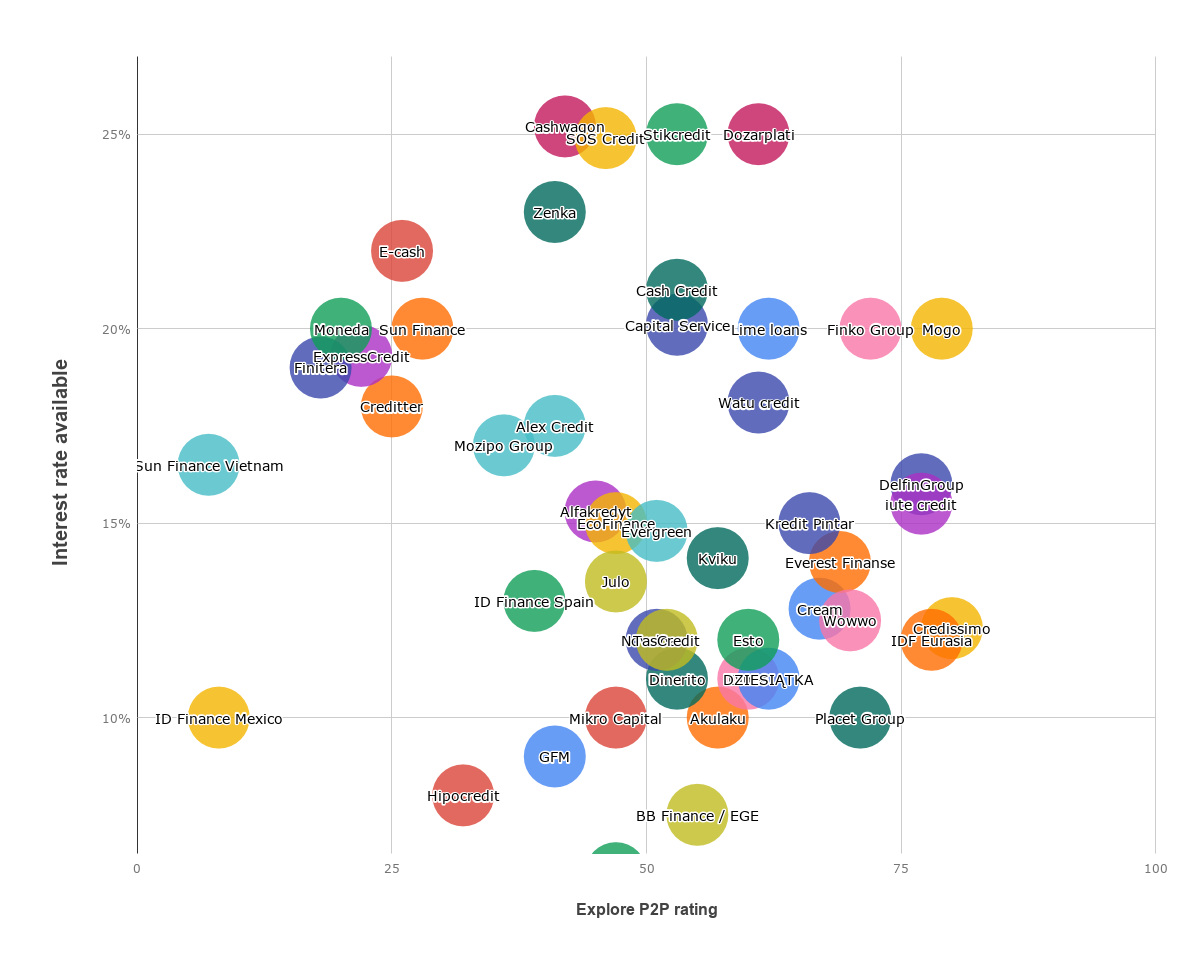 Rates available to investors are by far the highest they have ever been since the platform launched. Obviously these are also the most uncertain times too in terms of economic outlook. The chart above shows returns available, and current interest rates available. In the current environment, we think that choosing quality issuers is more important than ever. If you are considering buying loans from a lender, spend some extra time to get to know their business model, their financial position and how well positioned they are to deal with COVID-19 disruptions over the next months. Can they pay higher funding costs? Are they online, or do they rely on branches? If you can get comfortable with those answers, there are some very high returns available to take advantage of right now.

Bulkestate is a small but growing site focused on loans secured on real estate. It offers loans secured by real estate. Their rates are the highest in Europe for secured loans currently (11-14%)