P2P loans blitzed other asset classes during 2018
Here at Explore P2P we spend a lot of time covering where the most interesting P2P investment opportunities are right now. But up to now we haven't spent much time highlighting how well P2P investments have been performing compared to other asset classes, and why P2P should have a place in the investment portfolios of most investors. With 2018 behind us now, we thought it was a good opportunity for us to take a look at how well P2P performed versus other investment options. As you will see, 2018 was the year that P2P investments outperformed dramatically, and showed why so many smart investors are including P2P loans within their investment portfolios.
The chart opposite shows the average investment returns of European equities, euro bank deposits, and real estate in 2018. Equities had a very poor year, with the Eurostoxx 50 losing investors 15%. Average bank deposit rates in the Eurozone were barely above zero, due to the negative interest rate policy of the ECB. Property performed slightly better, with average house prices increasing by 4.3%
By comparison the returns delivered by 3 of our preferred European P2P investment sites during 2018 were excellent, achieving average investor returns in the region of 11-12%. These returns represent a 26% additional return over the equity market in 2018. This makes P2P loans easily one of the best performing asset classes in Europe during 2018.
* Sources – Ishares Estoxx 50 ETF price movements, Eurostat, ECB, company reported statistics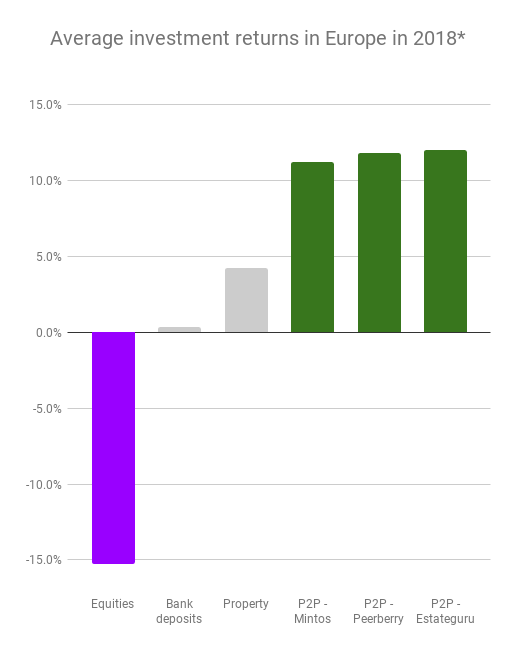 P2P investment sites in the UK also performed other asset classes, however by less than in Europe. This is because P2P investment returns tend to be slightly lower in the UK, and UK equities fell by less than in Europe during 2018. 
Even so, P2P loans clearly outperformed the other major asset classes during 2018, and many of our preferred P2P sites achieved even higher returns than the sites shown here.
* Sources – Ishares FTSE 100 ETF price movements, Nationwide, Bank of England, Brismo, company reported statistics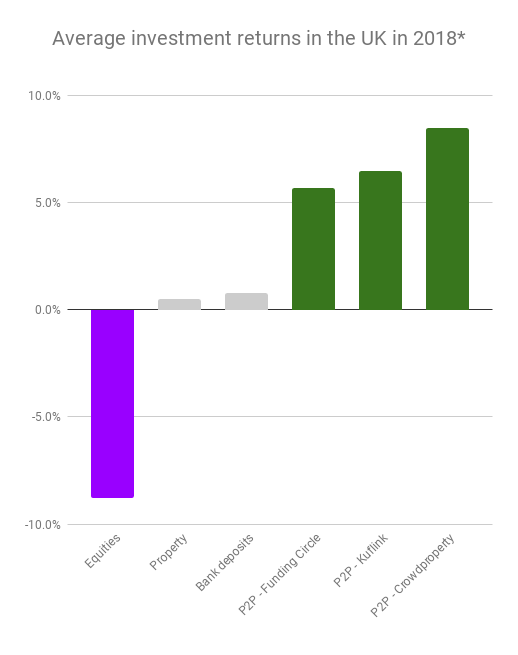 What do these results demonstrate to us? Where do P2P loans fit into an investment portfolio?
2018 showed the benefit of holding lower risk fixed income investments in an environment where equities are expensive by historic standards and where there are considerable political and economic risks. In uncertain times investors often move their asset allocations towards lower return, lower risk instruments such as bonds, cash, and gold. We think that 2018 showed very well that P2P investments provide a very compelling  alternative to these defensive investment strategies of the past. A diversified P2P loan portfolio provides considerably less downside risk & volatility than equities, yet still offers a substantially higher expected return than the traditional 'safe' asset classes. 
That means that P2P investments are an opportunity for investors to reduce their overall investment portfolio volatility (which is particularly important for older investors who do not want to take too much risk as they head into retirement). It also provides an opportunity for traditional fixed income investors to generate substantially higher returns than bonds and cash deposits, with modest additional risk in many cases.
As more investors become aware of P2P, and as the overall market grows, we expect to see more investors hold P2P loans. We also expect existing P2P investors to increase their allocations to P2P  within their investment portfolios. The size of the P2P investment market has been growing strongly, and that growth is likely to continue for several years, as investors seek to fill the gap between expensive, volatile equities, and traditional fixed income products that offer almost no yield in the current environment.