Lendermarket is the funding arm of international finance company Creditstar
Lendermarket is a lending marketplace that was been set up by the international finance company Creditstar in 2019 to help fund the growth of their business. Creditstar has placed its loans on Mintos for several years, and currently continues to do so. However through sign up bonuses and higher interest rates it has been encouraging investors to invest in their loans via Lendermarket. Creditstar has experience operating through tough economic environments, as it was established in 2006, shortly prior to the last financial crisis. It operates in 8 countries with the largest markets being Poland, Spain, the UK and Estonia. It has been consistently profitable for many years. Creditstar offer 'near-prime' loans – the average interest they on their loan portfolio is 32%, which is higher than banks charge, but lower than sub-prime and payday lenders. It is a modern style of finance company, offering loans through digital channels only, with a heavy emphasis on data analytics.
Lendermarket is a sister company of Creditstar. It is owned by the same holding company that owns Creditstar. It is owned by Creditstar founder and CEO Aaron Sosaar. Creditstar has 120 employees, and Lendermarket has 5.
Creditstar had a very good year in 2019
We have reviewed the recently released interim (unaudited) results for Creditstar for 2019. Profit after tax doubled, to €5.8m. Creditstar generated an average return on equity of over 25%, and a return on assets of over 5%. 
One of the key things we look at is the stability of bad debt costs. Since 2013 for Creditstar these have been consistently in the region of 5-7% of outstanding balances, which is a pretty good result given the average yield on loans that the business is earning (32.5% in Q4 19). 
Another thing that is important for investors is how secure and diversified Creditstar's funding is. This is an area that Creditstar seems much better placed than many loan originators that offer P2P investments. Their portfolio has five funding sources – bonds, credit lines, private loans, P2P and owners equity. Creditstar's bonds have maturity dates between 2020 and 2022, with. a significant proportion maturing after 2020. This diversification of funding sources and maturities left Creditstar reasonably well positioned going into the current challenging environment.
Omayra, can we start by asking you what your role is at Lendermarket? What is your background?
My academic background is in Law and Business. Previously, I have worked in Creditstar Group, where I learned the dynamics of the consumer loan industry. My position at Lendermarket is Business Manager, however as the team is small, my role is to cover different business functions according to the needs.
Who else is involved with the management of the Lendermarket platform?
Given the size of the company, Lendermarket does not have a top management position appointed yet. The strategic guidance for the business is given at the shareholder level, from the ultimate beneficial owner that also owns Creditstar Group who also initiated Lendermarket. Given the availability of experienced staff and know-how established in Creditstar Group, Lendermarket gets additional advisory on needed areas (such as marketing, IT development) from Creditstar. For that an outsourcing agreement between these two companies has been concluded, which specifies the use of expertise and scope of resources Creditstar Group is devoting for Lendermarket.
Can you please confirm the ownership structure of Lendermarket, and the relationship between Lendermarket and Creditstar?
Lendermarket and Creditstar Group are sister companies, both belonging to the same ultimate beneficial owner [founder Aaron Sosaar]. 
Is Lendermarket being run simply to be a funding tool for Creditstar, or are there plans to develop it and make it a multi-lender platform (similar to how Peerberry has developed)?
In the near term future we do not envision the introduction of additional Loan Originators to the platform. However, we do not rule it out as an option in later stages.
How much capital does Lendermarket have? Will the shareholders be able to provide more funding if needed?
 The shareholders of Lendermarket are providing funding for Lendermarket activities. As the company has relatively recently started its operations and is still setting up further processes, the shareholders are supporting it's growth until the set-up phase is completed. If needed, shareholders continue providing funding also after set-up phase completion.
Why was Lendermarket set up in Ireland? Are there any operations there or was this just done for tax or other reasons? Where are actual the Lendermarket operations based?
 Ireland met the regulative criteria that the business development team established while working through various countries. And additionally, what was very important to us – an English-speaking environment. As our working language is English within the company, then we preferred to establish the business in the country, where we'll be able to interact with the regulator directly in English. In comparison with Ireland, the UK, for example, would have proved to be more difficult in terms of the regulative environment. Therefore, ultimately the choice of establishing the business in Ireland came down to multiple deciding criteria. Lendermarket's team is international and currently based in Estonia.
Creditstar used to fund its P2P loans on Mintos – why did they decide to set up Lendermarket? Is it cheaper than paying fees to Mintos?
We at Lendermarket do not have a full knowledge of all the ins and outs of Creditstar's strategic decisions. However, here are a few objectives that we are aware of:
– Reducing risks arising from the platform. To give an example, in case that the platform has multiple loan originators, then whenever there would be a situation of anything noteworthy happening to any given competing originator, there's a chance that the whole of the platform's operation gets affected. Also, then the performance of Creditstar's funding may suffer, while the company has no direct involvement in such a theoretical incident.
– Lendermarket also offers another source of funding for Creditstar, that is in benefit of its diversification.
– Getting better first-hand feedback from end investors and what's important to them. In case of a non-related third party platform, there may still be something that's "lost in translation" or that the loan originator won't get to be aware about. Whereas Lendermarket's team and Creditstar Group's team can set feedback exchange principles in a more flexible manner.
At this point the overall cost of funding is similar when comparing Mintos and Lendermarket.
What can you tell us about the profitability and performance of Creditstar for 2019?
The main takeaway is that Creditstar increased their net loan portfolio and revenues while growing profit. To put it in figures, Creditstar increased their net loan portfolio by 36% to 113.2 million euros and revenue by 31% to 31.7 million euros while doubling profit to 5.8 million euros. 

Another element to highlight of their annual report 2019 is that the amount of cash in the balance sheet has increased 50% compared to Q4 2018. Also, Creditstar continues decreasing the percentage of loan impairment charges to total liabilities and equity, from 5.28% in 2018 to 4.65% in 2019.
Creditstar seems to be growing its balance sheet quickly. Did it raise any new equity in 2019? Does it have plans to raise any in 2020?
Creditstar indeed increased equity in 2019 in the form of converting retained earnings into larger share capital. The share capital was previously 9.75 million euros while now it is 21 million. Additionally, as an important source of funding, Creditstar completed two bond issues in 2019 – in May and in December. 
Do you have plans to launch any new features or products on Lendermarket this year? What changes if any can investors expect?
We maintain a pipeline of developments, many of them were or are planned to be implemented thanks to user's feedback. In the near future, we will publish a section at Lendermarket's website with several statistics and data of the platform.
Are you subject to any regulations in Ireland? If so what authorisations does Lendermarket have?
According to the set business model of Lendermarket, we do not require any authorisation (or a license) as a retail credit firm, credit intermediary, investment firm, or bank/credit institution from the Central Bank of Ireland. The main regulatory requirements with which Lendermarket needs to comply are those relating to anti-money laundering. The requirements of the Criminal Justice (Money Laundering and Terrorist Financing) Act, 2010 which transposes the EU's Third Money Laundering Directive into Irish law.
How will COVID-19 impact Creditstar?
The CEO of Creditstar has made a statement about COVID-19 here. We have also read further statements from him elsewhere on the topic. The key themes are their experience of operating in a challenging environment (2008/09) and the online nature of their business, which allows the business to operate with less disruption than traditional finance companies. The company will need to offer some flexibility to its customers as they suffer a temporary drop in income and available cash to service their loans.
In our view these statements are both reasonable and true. But how is COVID-19 likely to impact Creditstar, and how well placed is the company to navigate the next 12 months? We think three key things are likely to happen. Firstly funding will become more expensive and difficult to obtain. However the business has some protection from this due to the bonds that have been issued at fixed rates. Secondly, the level or arrears and bad debts will increase. Finally, we would expect the business to reduce the amount of new lending it does, which will lead to a smaller loan portfolio and interest income. We also expect the management team to take measures to reduce operating costs.
What happens to Creditstar under 'stress' conditions?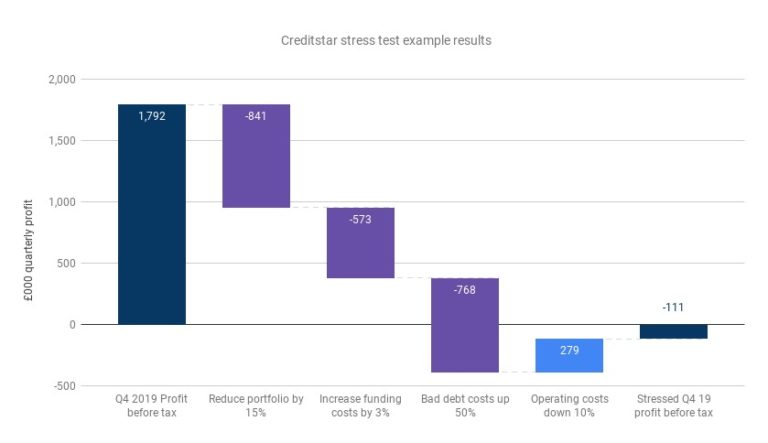 To test how resilient Creditstar may be to COVID-19 in the coming months we decided to perform a 'stress test' simulation of their latest quarterly financial results. We made some assumptions that we thought could potentially reflect conditions for the business for the rest of the year, based on conditions during the last financial crisis. We ran 3 stresses at the same time – a decrease in the loan portfolio of 15%, an increase in funding costs of 3%pa, and a 50% increase in bad debt costs. To make the scenario a little more realistic we assumed that management would respond by reducing operating costs by 10% (they could probably reduce these by significantly more). When we model the results of these stress assumptions, Creditstar's Q4 19 profit of €1.8m turns into a small loss of €0.1m. Our conclusion from this is that Creditstar's strong underlying profitability and the high yield it generates on its portfolio means that it appears to be fairly well positioned to cope with the challenges ahead. It's impossible to know how conservative (or not) these stress assumptions are given the current uncertainty. We also don't have full details about the maturity profile and key terms of all its funding facilities. But investors can gain comfort from the amount of equity that Creditstar holds (over €25m), and its successful track record that could help it raise additional equity if needed. All these factors make Creditstar appear to be one of the strongest European loan originators available for P2P investors to purchase loans from right now.
2% bonus offer available for limited time
Lendermarket is currently offering a 2% cashback bonus for all net deposits made until April 30, 2020. Interest rates are typically between 12 and 14%. To take advantage, just use this link, open an account and invest in loans prior to April 30. Your account will then be automatically credited with your bonus.