Website and investment product features
What is HeavyFinance? How does it work?
HeavyFinance is a regulated P2P investment site based in Vilnius, Lithuania. It launched in 2020. While the site is new, the team behind it have a track record in this space – CEO Laimonas Noreika previously founded another successful Lithuanian P2P site Finbee. Other members of the team have a background in equipment sales and leasing. You can read our interview with Laimonas here. HeavyFinance focuses on lending to small and mid-sized farmers located in the European Union. They feel that this is a market in which there is an under-supply of finance from banks, particularly in their home region of the Baltics. As a result, the interest rates available to investors are higher than you would expect relative to the risk of the loans. It also means that there is scope for HeavyFinance to grow significantly in the coming years.
Most loans featured on HeavyFinance are to fund the purchase of large and expensive farm machinery. All loans are secured – mainly on farm equipment but in some cases on farmland too. HeavyFinance provides loan to value ('LTV') information on their site, based on the value of the collateral registered. However, the management team are quick to point out that all the loans are guaranteed by the farmers, who typically hold significant amounts of other assets. The HeavyFinance team  review the bank statements and financial statements of the farmers as part of their due diligence and credit approval processes – they don't just look at the collateral values.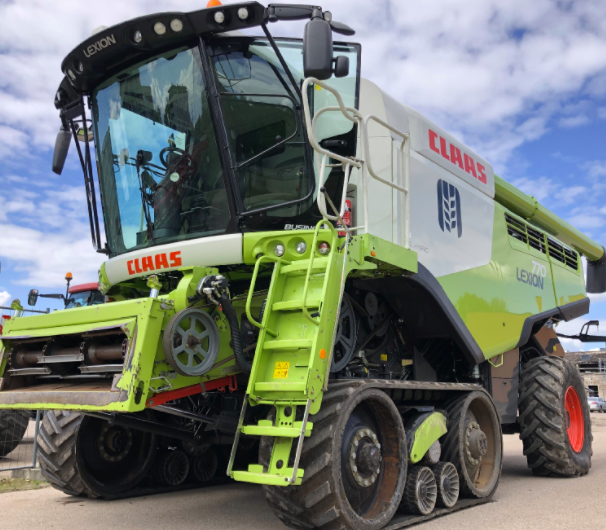 Opening an account at HeavyFinance is a fairly quick and simple process. However please note that HeavyFinance uses a third party service called Paysera to hold investor funds. If you don't already have a Paysera account, you will need to open one to invest on the HeavyFinance P2P platform. Paysera is a well known payments company that is regulated to hold and manage deposits. While the use of Paysera means there are additional steps required to invest at HeavyFinance, the benefit is that no investor funds are ever held 'on deposit' with HeavyFinance itself. The funds held at Paysera are in a segregated IBAN (bank account) owned and controlled by each investor. It is only when an investor makes a loan purchase that the funds sitting in Paysera are accessed by HeavyFinance, after investors have approved via 2-factor authentication. We think this system is much safer for investors, and we expect more P2P sites to adopt this type of cash management system in the future.
We think the risk / reward profile at HeavyFinance will be attractive to many investors. As it is only a new site we have to focus on the information provided about the loans they have written so far – it's too early to assess the lending performance.
One of the things we have discussed with the management team is how easy it is to value the collateral, and how easy it is to re-sell if needed. Valuation of the collateral does not appear to be that difficult, as there is significant data available on depreciation curves and also selling prices. Most farm machinery and heavy equipment have relatively long lives, so they will not depreciate quickly during the life of the loan (unlike for example, new cars).
A lien is registered at the mortgage registries against all assets being used as collateral. This  means that they cannot be sold until the loan is repaid. Selling second hand equipment appears to be a fairly simple process, with potential buyers existing across Europe. 
All loans are guaranteed by the farm owners. That means that in the event a collateral is unable to be recovered, or there is a shortfall after the collateral sale, HeavyFinance would be able to pursue further legal action. This means that the courts could require the farms to sell other assets (or the farm itself) to repay HeavyFinance investors. 
HeavyFinance provides different risk grades for each loan – A,B,C. It's not clear how they generate these ratings – the C grade loans seem to be to smaller farms with lower revenues. We think it is worth reviewing the information provided and selecting individual loans rather than just auto-investing in each one. For now, the A and B grade loans seem to offer the best risk / reward profile. 
We think that HeavyFinance is one of the best new P2P sites to launch in the last year.  We really like the combination of an experienced management team, interesting asset class, high interest rates, and exposure to the (heavily subsidised) European agriculture sector. 
HeavyFinance's risk adjusted return profile is strong. We think that interest rates of 10-14%, combined with acceptable LTVs and borrowers with good credit profiles makes HeavyFinance a site that many investors will find interesting.
At the moment most of the loans listed are in the Baltic region but the company has plans to grow in countries such as Portugal and Bulgaria and it has issued its first loans in these countries. We hope that the site can succeed in growing in these markets in the coming months as it will provide investors with more opportunities and the ability to diversify geographically. 
The volume of loans has been increasing. However it will take time to build a diversified portfolio. We think a portfolio of at least 15-20 loans is ideal, to reduce the potential impact of a single default on investor returns. 
The integration with Paysera is secure and works well – investors provide 2 factor authentication each time a loan is purchased. We do note though that Paysera seems to have strict AML monitoring and investors seeking to deposit larger sums (over €5k) are likely to have to provide additional documentation to Paysera.
The main downside to HeavyFinance currently is that it is a new platform and as a result it is not yet profitable and does not have much of a lending track record. We were pleased to see that HeavyFinance had a successful equity raise last year, with another planned during 2021. As for the lack of track record – the risk is mitigated considerably by all the loans being secured. Some investors will want to wait and see, while we expect many more will decide to make some initial investments and monitor how things go. 
HeavyFinance is offering a sign up bonus to new investors for a limited time period. To earn this bonus, follow the following steps:
1. Open an account with HeavyFinance using this link. (Note – this link must be used to qualify for the bonus)
2. Invest into HeavyFinance loans within 30 days of account opening. 
3. The size of the bonus depends on how much you invest. It is one of the most generous schemes open at the moment – earn €20 for €500 investment, €40 for €1,000, €75 for €5,000 and 2% for amounts €10,000 and higher.  It will be credited to your account shortly after the end of the 30 day period.
Our legal page contains disclosures and the full terms and conditions of the use of the ExploreP2P site.